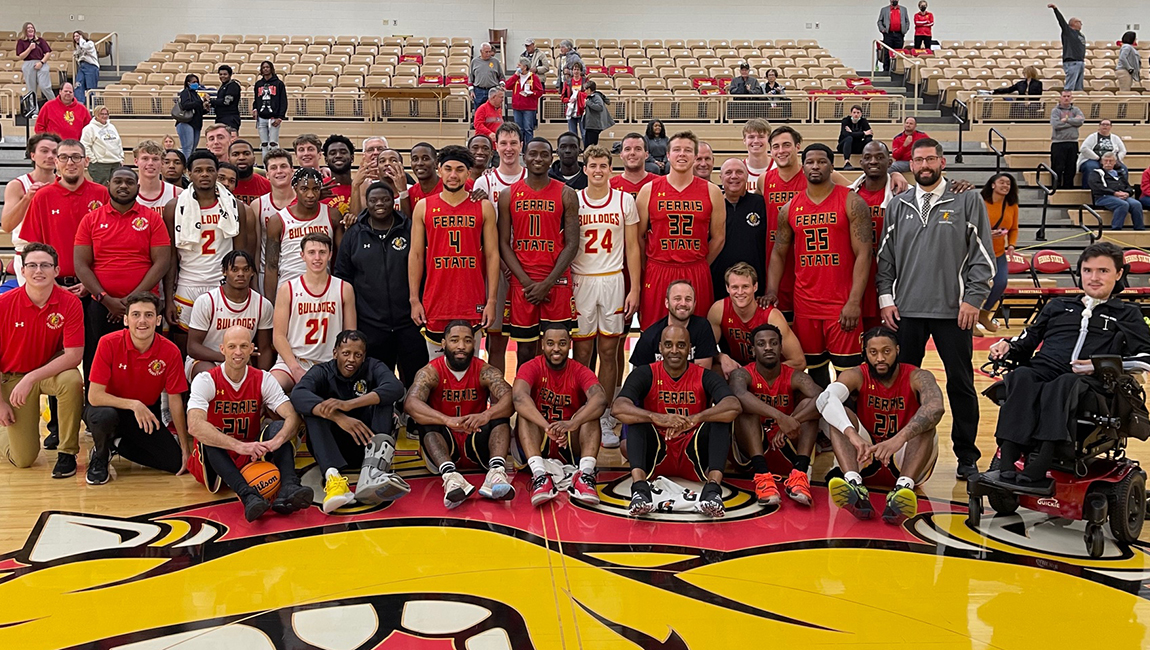 Ferris State Basketball Tops Stars From Past In High-Scoring Alumni Contest
Big Rapids, Mich. - The Ferris State University men's basketball squad stepped back on the floor in a game situation for the first time this season and came away with a high-scoring 107-96 victory over Bulldog stars from the past in the program's annual Alumni Game held on Saturday at FSU's Jim Wink Arena.
The Bulldogs built an early lead and withstood a couple of charges fro the alumni team en route to the victory. FSU led 52-45 at halftime and outscored the alums 55-51 in a high-scoring second half of action.
The alumni team featured many of FSU's top standouts from the past decade, including seven members who came back from the school's 2018 NCAA Division II National Championship team.
Freshman Ethan Erickson paced the current Bulldogs with a game-high 19 points while seniors Logan Ryan and Lee Higgins added 18 points each. The Bulldogs' Vejas Grazulis added 15 points and Ben Davidson scored 10 to pace this year's squad.
Meanwhile, the Alumni team was led by current FSU Associate Head Coach and former standout Raymoan McAafee, who notched a double-double with 14 points and 10 rebounds. Another current FSU assistant coach and alum, Josh Fleming, totaled a team-best 15 points for the alums as did former two-sport standout and national champion DeShaun Thrower. Former standout guard D'angelo Hughes tallied 14 points.
Overall, a total of 13 current players saw action in the regulation contest while the alumni team played 14 former standouts over the course of the game.

In addition to the regulation game, several alums from different eras also took on the younger Bulldog players in a 10-minute scrimmage leading up to the contest.
Ferris State will officially open its exhibition schedule on Wednesday (Oct. 27) as FSU visits NCAA Division I Michigan State for a 7 p.m. (ET) exhibition tilt inside the Breslin Center in East Lansing. The game will be carried live on local flagship station Sunny 97.3 FM and the Bulldog Sports Network online at FerrisStateBulldogs.com with pregame coverage starting a half-hour prior to tipoff. The game will also be televised by Big Ten Network Plus.
Below are the scoring totals from the Alumni game:
Alumni - Josh Fleming (15), DeShaun Thrower (15), Raymoan McAfee (14), D'angelo Hughes (14), Matt Stoll (9), Noah King (8), James Chappell (7), Markese Mayfield (6), Greg Williams (4), TyQuone Greer (2), Jibreel Jackson (2). Also played: Drew Cushingberry, Daniel Sutherlin, Greg Krusniak.
FSU - Ethan Erickson (19), Lee Higgins (18), Logan Ryan (18), Vejas Grazulis (15), Ben Davidson (10), Reese McDonald (8), Keymonta Johnson (7), Jimmy Scholler (7), Reece Hazelton (3), Nathan Claerbaut (2). Also played: Walt Kelser, Bennie Crenshaw, Brandon Claerbaut.