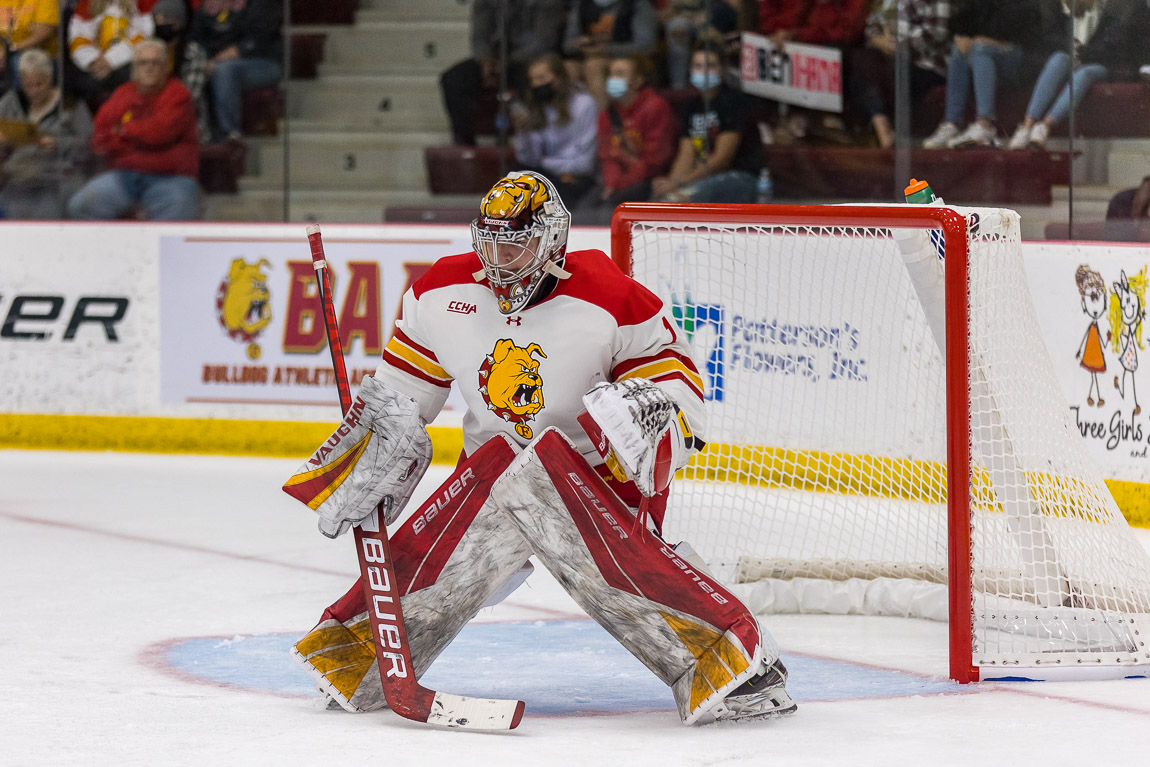 Bulldogs Fall To Broncos In Non-Conference Action
Kalamazoo, Mich. - The Western Michigan Broncos defeated the Ferris State University men's ice hockey team 4-0 on Friday (Oct. 8) at the Lawson Ice Arena in non-league action.
Ferris State sophomore goaltender Logan Stein shined for the Bulldogs, making 31 saves including nine shorthanded stops in the contest.
The Bulldogs carried the play for much of the first period, but the Broncos picked up a power play goal with 45 seconds to go in the opening frame when Paul Washe cleaned up a loose puck in front of Stein for the 1-0 lead.
After Stein made several highlight reel saves in the second frame, the Broncos cracked the Bulldogs again when Ethen Frank picked up an alley-oop pass over the top of the Bulldog defense and ripped in a breakaway goal for a 2-0 WMU dge at 13:44 of the second period.
Late in the period, Drew Worrad deflected a shot at the top of the crease past Stein for a 3-0 Western Michigan lead with just 8.7 seconds left in the second frame.
In the third period, Western Michigan scored when Frank hit a one-timer from the left faceoff circle at 8:37 of the period on the power play for the 4-0 final.
Ferris State finished 0-3 on the power play while Western Michigan went 2-6. The Broncos won the shots on goal battle 35-21, but the first and third period shot total combined was a narrow 20-18 edge for the Broncos.
In goal, Brandon Bussi picked up the win for Western Michigan on 21 saves.
Ferris State battles Western Michigan in the series finale in Big Rapids on Saturday (Oct. 9) at the Ewigleben Ice Arena. Puck drop is set for 7:07 pm ET. Tickets are on sale now at FerrisStateBulldogs.com/Tickets.