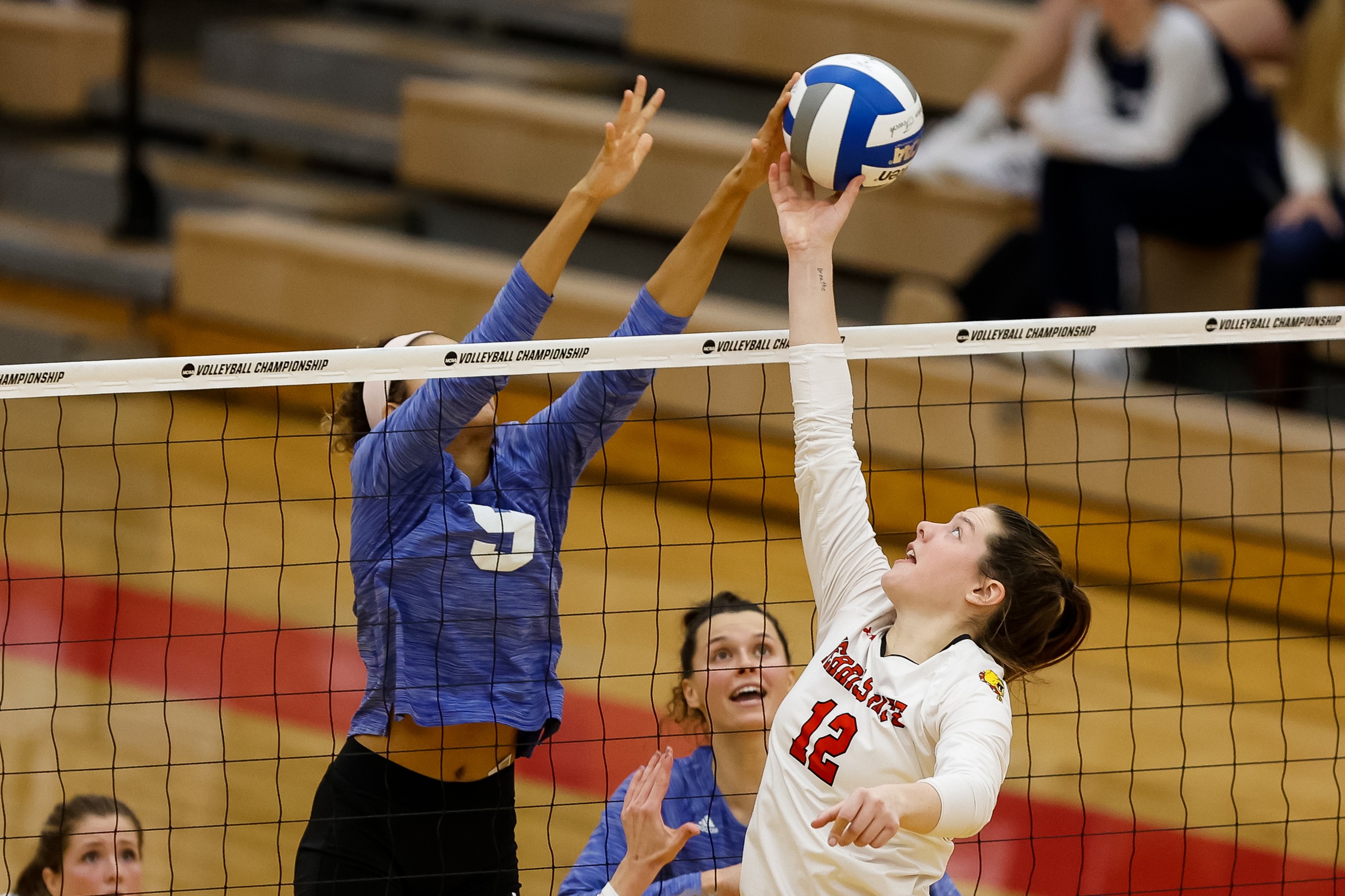 Ferris State Volleyball Knocks Off 14th-Ranked Colorado Mines In Day Two Split On Friday
Big Rapids, Mich. - The Ferris State University women's volleyball squad earned its first victory of the campaign while coming away with a day two split on Friday (Sept. 2) at the Hillsdale Invitational.
The Bulldogs fell to nationally 17th-ranked Gannon (Pa.) 3-1 in a close opener before coming back to beat 14th-ranked Colorado Mines 3-1 at Dawn Tibbetts Potter Arena.
In the opening match against Gannon, FSU fell in the opening frame 25-22 before coming back for a 25-14 decision in set two to tie it back up. However, the Knights captured the third and fourth frames by scores of 25-16 and 25-20, respectively.
Ferris State received 14 kills from Olivia Henneman-Dallape along with nine by sophomore Claire Nowicki and eight from Emma Bleecher. Leah Bylut led the defensive effort with 16 digs while setter Kaylee Maat finished with 40 assists and 12 digs. Nowicki also added 11 digs.
FSU was limited to a .176 attack figure and also finished with 10 service errors, but did total 14 block assists to go with a solo hit at the net.
In Friday's second contest, the Bulldogs earned an impressive victory over Colorado Mines. The Bulldogs won both of the first two sets by identical 25-22 scores before the Orediggers took a 28-26 win in the third. FSU, though, closed out the victory by a posting a 25-19 triumph in the fourth frame.
Henneman-Dallape had a strong performance in the nightcap, finishing with 16 kills and a .351 attack figure. Nowicki posted 14 kills and Bleecher also had 14 kills as FSU hit .252 overall for the contest, totaling 52 kills overall.
Bylut finished with 15 digs and Maat added 12 digs in addition to 41 assists. Nowicki recorded 11 digs to help the cause.
The Bulldogs will close out the Hillsdale Invitational on Saturday (Sept. 3) against Missouri S&T at 2 p.m. (ET) before opening Great Lakes Intercollegiate Athletic Conference (GLIAC) play versus Parkside on Sept. 9.