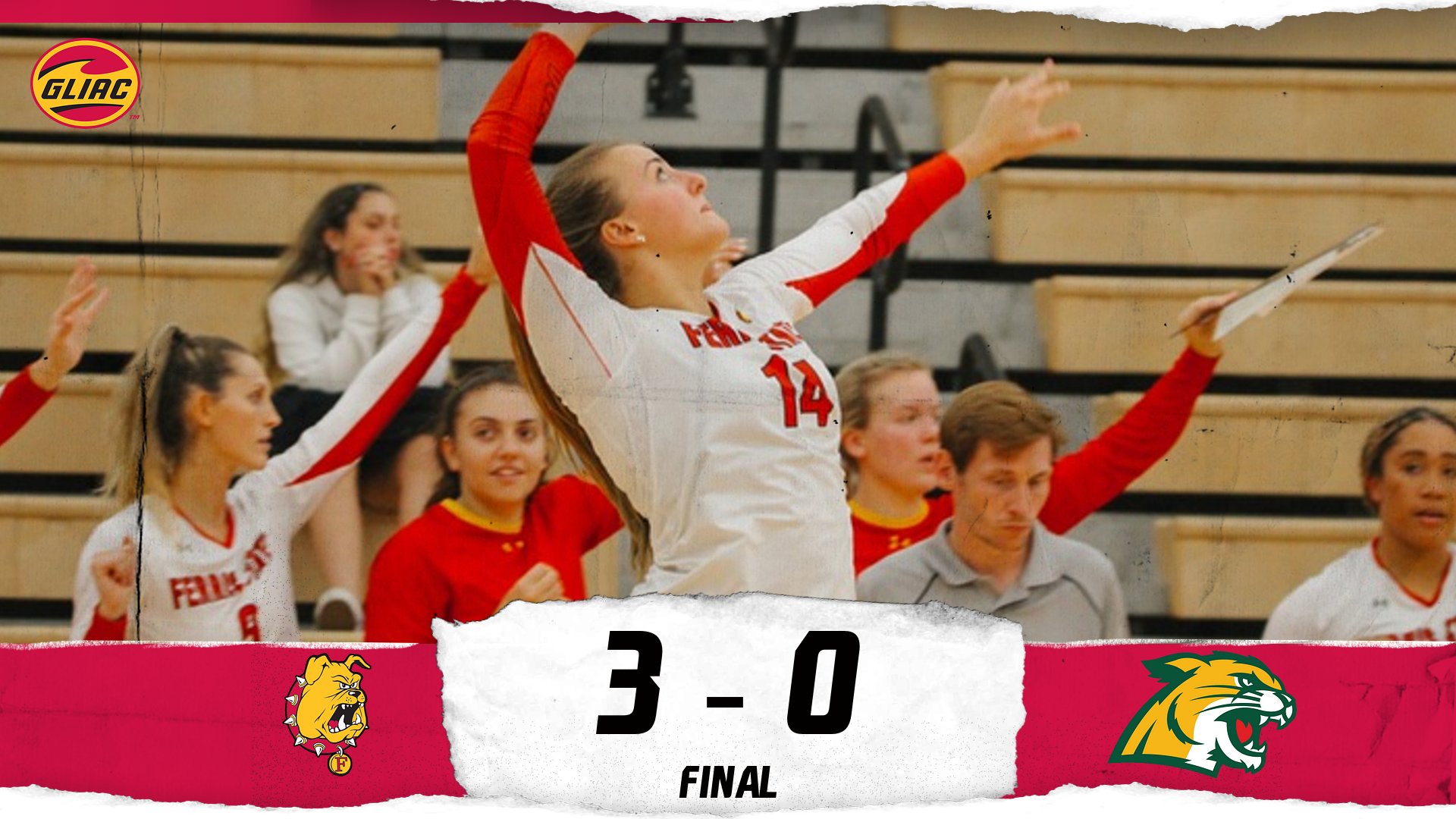 Bulldog Volleyball Rolls To Big Victory Over Northern Michigan On Weekend Trip
Big Rapids, Mich. - The Ferris State University women's volleyball squad rolled to another victory on Saturday (Sept. 17) as FSU recorded a 3-0 sweep over the Northern Michigan Wildcats in Marquette.
The Bulldogs stormed to a 25-10, 25-17 and 25-22 win over the Wildcats for their sixth-straight victory of the campaign.
With the triumph, FSU also is off to a perfect 4-0 start in Great Lakes Intercollegiate Athletic Conference (GLIAC) play.
The Bulldogs jumped in front early in their second match of a three-match swing to Michigan's Upper Peninsula and never looked back in moving to 6-6 overall this year.
Ferris State had a balanced effort in topping NMU with Emma Bleecher leading the way with 14 kills and a .387 attack figure. Meanwhile, Claire Nowicki hit .379 overall and added 12 kills while Syann Fairfield also had a big match with 12 kills and no attack errors on 18 attempts for a .667 percentage.
Sophomore setter Kaylee Maat registered 31 assists and a team-high 13 digs with four aces for the Bulldogs while libero Leah Bylut tallied 10 digs. Nowicki added a pair of solo blocks and an assist at the net.
Overall, Ferris State tallied 45 kills and had only seven total attack errors on 115 tries, hitting .330 overall for the contest. FSU also finished with 51 digs while mustering five aces, four block assists and three solo blocks.
The Wildcats were paced by Jacqueline Smith with 10 kills and 12 digs. Alli Yacko had 13 digs in the losing cause. NMU was limited to a .130 attack percentage and finished with 33 kills, 47 digs and two solo blocks.
Ferris State will wrap up its weekend trip to the Upper Peninsula looking for the sweep on Sunday (Sept. 18) as FSU visits Lake Superior State for a 3 p.m. (ET) league encounter in Sault Ste. Marie.