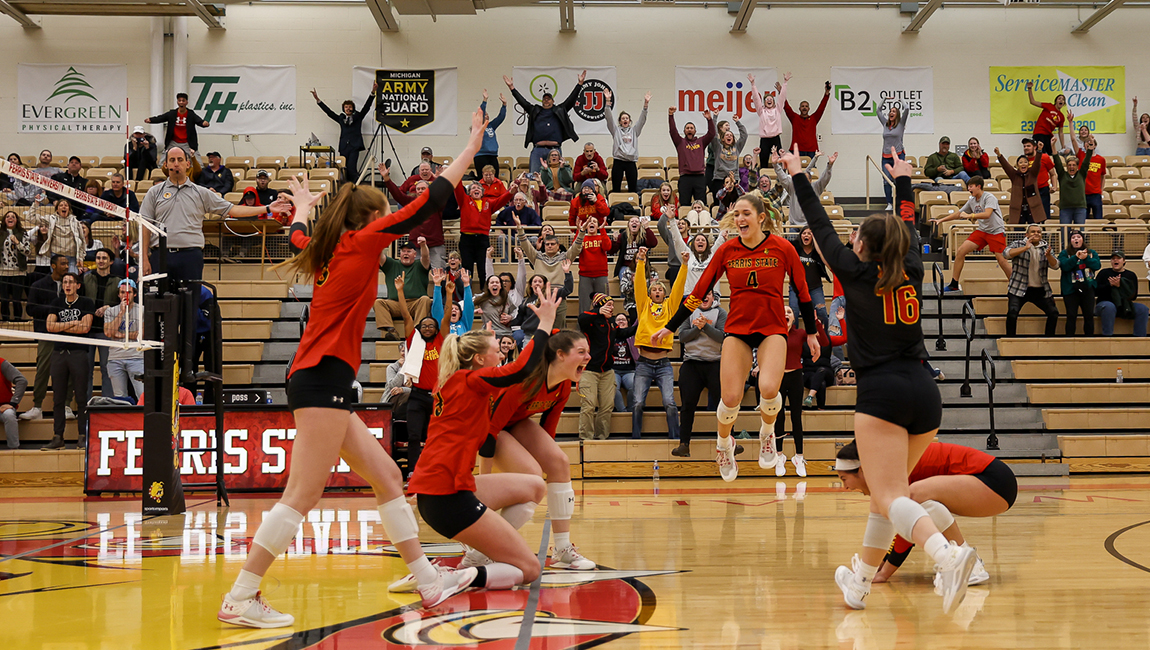 Ferris State Closes Colorado Premier Tourney With Saturday Split
Big Rapids, Mich. - The Ferris State University women's volleyball squad wrapped up action at the prestigious Colorado Premier Challenge on Saturday (Sept. 9) with a split against a pair of strong opponents in Denver, Colo.
FSU topped regional rival Lewis by a 3-1 score in morning action before falling in the Silver Division first-place match to nationally 19th-ranked host Regis (Colo.) by an identical 3-1 score in evening action.
With the split, Ferris State closed one of the nation's toughest events with a 2-2 overall mark in the two days of action. The Bulldogs are now 5-3 overall on the year.
In the opener, Ferris State suffered a 25-23 setback in set one. However, the Bulldogs responded by taking the next three sets by scores of 25-9, 25-22 and 25-22.
FSU's Olivia Henneman-Dallape paced the Bulldogs with 16 kills while Claire Nowicki added 13 kills and Emma Bleecher had 10 overall. Kaylee Maat netted 45 assists while adding 12 digs. Meanwhile, libero Leah Bylut totaled 16 digs and Bleecher had 10 for FSU. Nowicki also had a strong performance at the net with a solo block and six assists with Chelsie Freeman adding five assisted blocks at the net and Syann Fairfield four.
The Bulldogs hit an impressive .314 overall in the opening match and totaled 57 kills with 59 digs overall in addition to a solo block and 16 block assists.
In the setback to Regis, Henneman-Dallape notched 14 kills with the trio of Freeman, Nowicki and Fairfield adding 10 each. Maat had 38 assists and nine digs while Bylut totaled 15 digs and Bleecher recorded nine. Ferris State won the opening set 25-23, but Regis rallied to win the next three frames by scores of 25-19, 25-23 and 25-18.
The Bulldogs will open GLIAC play on the road Thursday (Sept. 14) versus Wayne State in Detroit at 7 p.m. (ET). FSU then returns home to host Parkside on Saturday (Sept. 16) inside Bulldog Arena starting at 3 p.m. (ET).