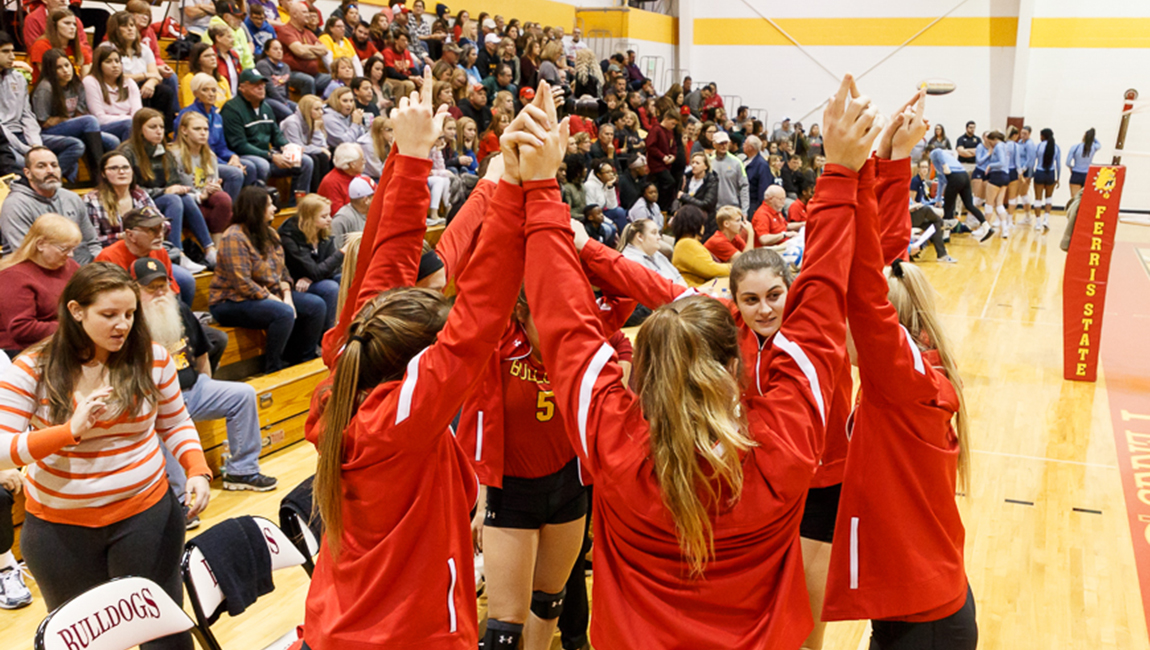 Ewigleben Sports Arena
Photo Gallery

A Game at Ewigleben

TV Studio


Since moving into Ewigleben (pronounced A-VEE-glave-in) Sports Arena from the Health and Physical Education (HPE) Building in 1981, Ferris State has firmly established a home-court advantage in its volleyball-only facility.
The Bulldogs have posted an impressive 385-93 (.805) overall record at the Ewigleben Sports Arena heading into the 2018 season and compiled seven undefeated home seasons (1984, '87, '89, '90, '96, '02 and '14).
The arena, located on the southwest end of campus, is named after former FSU President Dr. Robert L. Ewigleben. The 12th president in the University's history, Ewigleben served in the position from 1971-83.
With a seating capacity of 600 on the arena's west side and a string of Great Lakes Intercollegiate Athletic Conference (GLIAC) Championship banners on the east side, the Sports Arena has transpired through the years as a difficult place for the opposition to compete successfully in.

Adding to the hostile environment are the fans. Capacity crowds at FSU are nothing new as Ferris led the nation in NCAA Division II volleyball attendance in 1989 while ranking seventh nationally in 1990 and 15th in 1997.
The volleyball arena is a part of FSU's Sports Complex, which also houses the modern 2,400-seat Jim Wink Arena for basketball and the Ewigleben Ice Arena, the remodeled home of Ferris State's Division I ice hockey program. Included in the Sports Complex are a varsity student-athlete weight room, athletic training facilities, a renovated multipurpose room, locker rooms and staff offices.
In an on-going effort to attract top-quality student-athletes, a wood-surface playing court was installed at Ewigleben Sports Arena in the spring of 2001 and additional renovations were made to the appearance of the facility. A new scoreboard and video board were added in 2014.

The latest renovation took place in the spring of 2009 when the floor was refinished and painted to reflect appropriate university colors.
The Ewigleben Sports Arena has been the site of NCAA Division II Regional Championship Tournaments in 1982, '87 and '89. In both '87 and '89, Ferris State won the regional title and advanced to the NCAA Division II National Championships.

Please visit this link for additional photos of the facility:
Facility Photos
Address:
210 Sports Dr.
Big Rapids, MI 49307