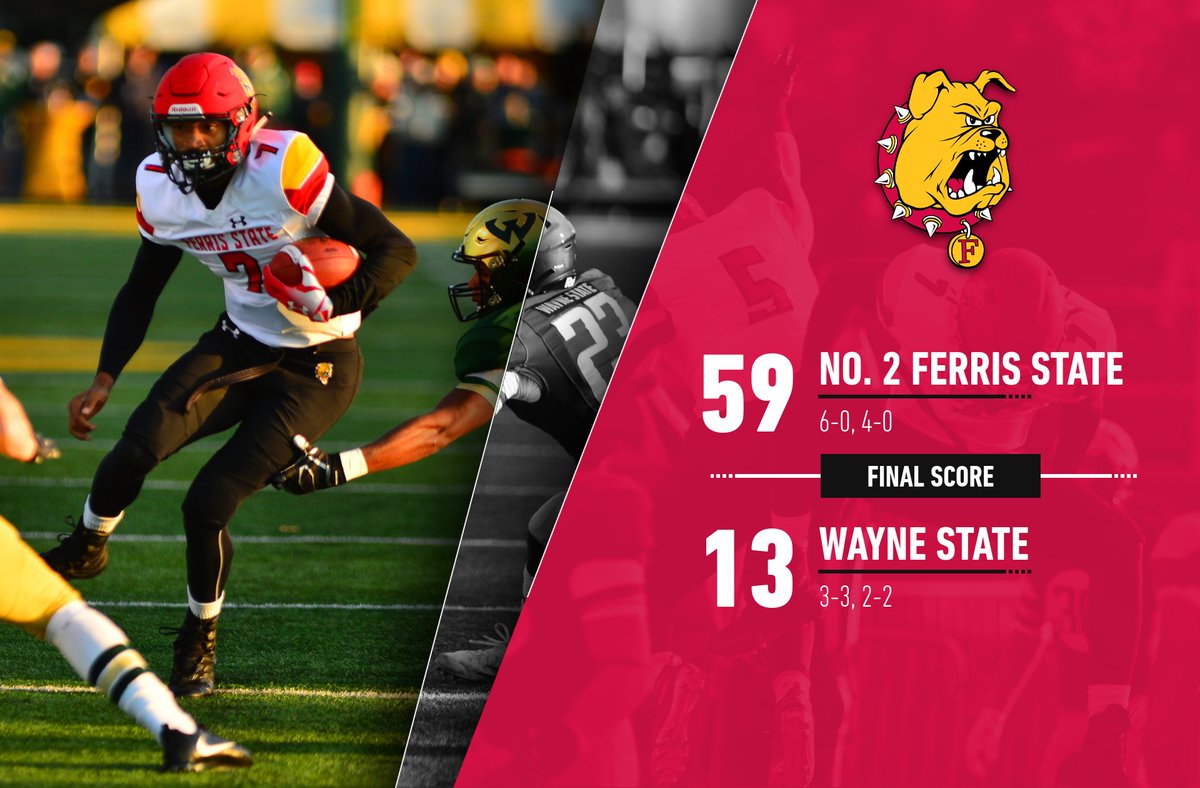 Ferris State Makes First Trip To Detroit In Seven Years Memorable To Stay Unbeaten
Final
1
2
3
4
T
Ferris State

(6-0)

21
14
14
10
59

Wayne State

(3-3)

0
0
6
7
13
Postgame Interview

Postgame Highlights


Big Rapids, Mich. - The nationally second-ranked Ferris State Bulldogs made their first trip to Detroit in seven years a memorable one as FSU raced to a 59-13 triumph over Wayne State on Saturday (Oct. 12) night at Tom Adams Field in the Motor City.
The Bulldogs scored 21 points in the first quarter and built a 35-0 halftime lead en route to the win while moving to 6-0 overall and 4-0 in the GLIAC.
With the win, the Bulldogs are not the lone unbeaten team left in conference play this year.
Senior quarterback Jayru Campbell returned to the lineup and his hometown of Detroit with a big performance as he accounted for all five touchdowns in the first half. He finished with 76 rushing yards and two scores on the ground while completing 10-of-12 throws for 203 yards and three TD's before giving way to sophomore Evan Cummins the entire second half.
Defensively, the Bulldogs limited Wayne State to only 120 yards of total offense and the Warriors were held to -3 yards rushing on 29 attempts. It marks the second consecutive game in which FSU has held the opposition to a negative rushing figure.
Ferris State sophomore wideout Sy Barnett hauled in five catches for 139 yards and two TD's, both of which came in the opening quarter. After Campbell scored FSU's first touchdown on a six-yard run less than six minutes into the game, Barnett caught TD passes of 46 and 36 yards to push the lead to 21-0 at the end of one.
In the second period, Campbell added his second TD run and then hooked up with tight end Lazon Hicks on a six-yard scoring throw just before halftime as FSU built the lead to 35-0. It represented Hicks' first touchdown catch of his collegiate career.
The Bulldogs' Tyler Minor scored early in the second half as Ferris State increased the lead to 42-0 and FSU added a nine-yard TD run from Jeremy Burrell along with a seven-yard score by Cummins and a 24-yard Jackson Dieterle field goal in the second half.
The Bulldogs went seven-of-nine in the red zone for the game and compiled 317 rushing yards along with 285 in the air to finish with 602 yards of total offense.
Ferris State returns home to host Northwood on Saturday, Oct. 19, with kickoff set for 1 p.m. (ET) at Top Taggart Field. Tickets are on sale now, call (231) 591-2888 or visit FerrisStateBulldogs.com for more information.




Game Leaders
Wayne State
Ru:
Deiontae Nicholas
- 30
Rec:
Deiontae Nicholas
- 36
---
Team Stats
| Game Statistics | Ferris State | Wayne State |
| --- | --- | --- |
| Passing Yards | 285 | 123 |
| Rushing Yards | 317 | -3 |
| Turnovers | 4 | 1 |
| Time of Poss. | 31:56 | 28:04 |