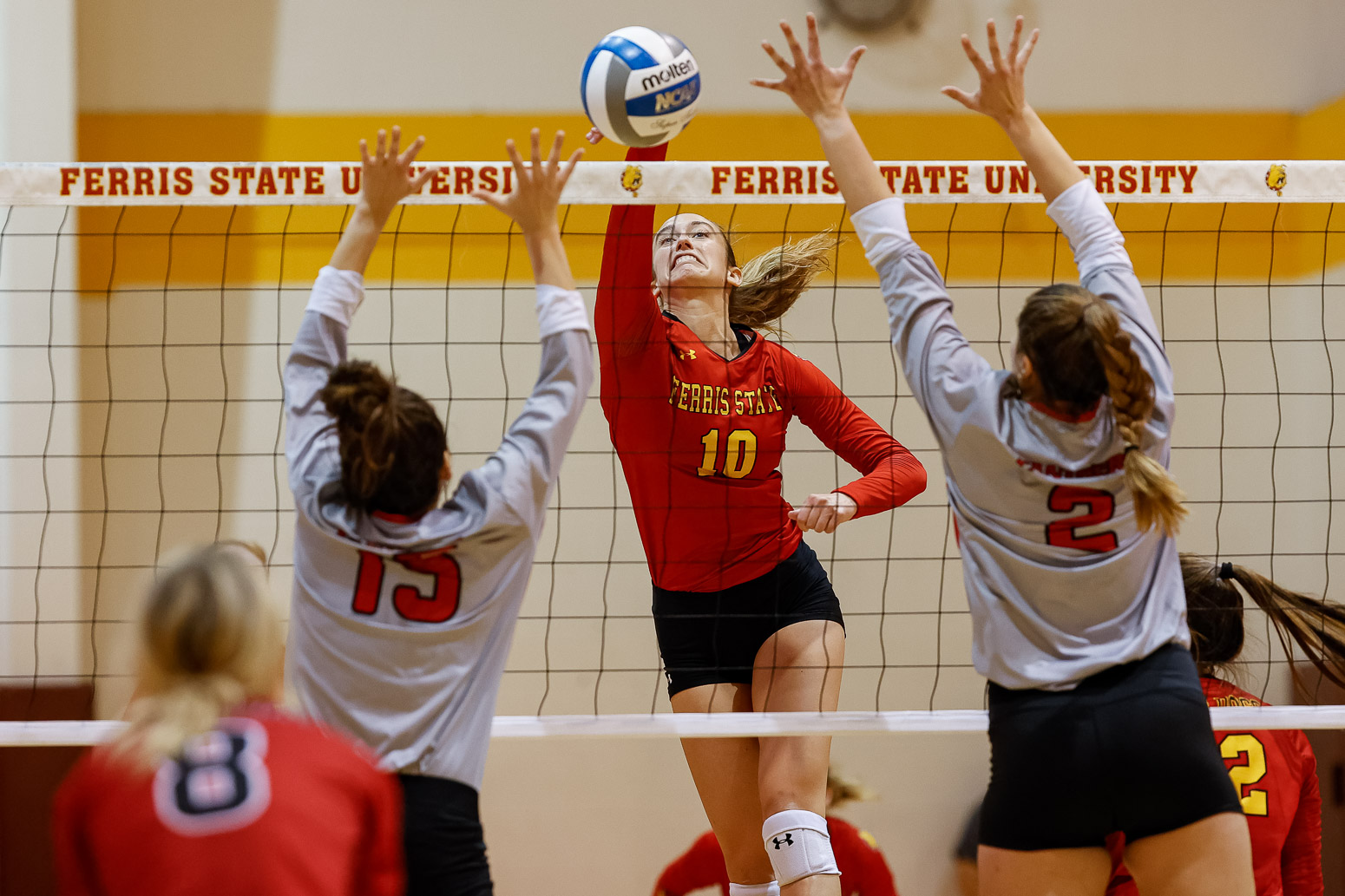 Bulldogs Cruise Past Panthers To Cap Unbeaten Home GLIAC Weekend
Final
1
2
3
T

Davenport

(6-6, 1-3 GLIAC)

19

18

15

0

Ferris State

(7-4, 2-2 GLIAC)

25

25

25

3
Final
1
2
3
T

Davenport

(6-6, 1-3 GLIAC)

19

18

15

0

Ferris State

(7-4, 2-2 GLIAC)

25

25

25

3
Postgame Highlights & Comments


Big Rapids, Mich. - The Ferris State University women's volleyball team picked up its second consecutive Great Lakes Intercollegiate Athletic Conference (GLIAC) home victory with a 3-0 (25-19, 25-18, 25-15) triumph over the visiting Davenport Panthers on Sunday (Sept. 26) afternoon inside the Ewigleben Sports Arena.
Ferris State senior outside hitter Katie O'Connell led all Bulldogs with 13 kills to go with a .263 attack percentage and a pair of total blocks on the day.
The Bulldogs opened by hitting .312 in the opening set and settled into a groove, finishing at a .208 figure for the day. Ferris State held Davenport to an .073 attack percentage overall and marked six total blocks on the day.
For the Bulldogs, senior middle hitter Samantha Hermann and sophomore middle hitter Kira Merkle addd six kills each and combined for six total blocks. Freshman outside hitter Olivia Henneman-Dallape had nine kills as well.
Ferris State freshman setter Kaylee Maat had 33 assists in the match to go with a team-best 15 digs on the day. Senior libero Nina Gorgijevska had 13 digs while junior libero Brooke Norder chipped in 11 digs.
For the Panthers, Hayley Kreiger had 15 kills to lead all attackers on the day while Grace Hayes chipped in with 15 assists. Kenzy Corstange had 16 digs to lead the Panthers defensively.
The Bulldogs (7-4, 2-2 GLIAC) draw the Purdue Northwest Pride this coming Friday (Oct. 1) at home with first serve set for 7 p.m. inside the Ewigleben Sports Arena.
Game Leaders
Davenport
SA:
Stephanie Kalinowski
- 1
---
Team Stats
| Game Statistics | Davenport | Ferris State |
| --- | --- | --- |
| Hitting % | .073 | .208 |
| Blocks | 4.0 | 7.0 |
| Digs | 58 | 52 |
| Aces | 1 | 8 |
Game Leaders
Davenport
SA:
Stephanie Kalinowski
- 1
---
Ferris State
Team Stats
| Game Statistics | Davenport | Ferris State |
| --- | --- | --- |
| Hitting % | .073 | .208 |
| Blocks | 4.0 | 7.0 |
| Digs | 58 | 52 |
| Aces | 1 | 8 |